Otto's Indianapolis Duesenberg
When it comes to Duesenbergs there are basically two flavors. Fred and August Duesenberg built sporty cars in the 1920's, but after a near collapse of the company they where purchased by E.L. Cord of the Auburn company. Fred remained with the company and designed the iconic J type, while Augie was "banished" to a separate facility where he ran a racing shop.
Augie's first set of "racing Duesenbergs" where based upon the A type with stock frames, engine blocks and modified running gear. His later cars became increasingly less "Duesenberg" with frames built by Herman Rigling and bodies by Myron Stevens.
When Otto Linton attended a meeting in Boston (February 1944) of disgruntled AACA members (they where more interested in sporty cars than Tin Lizzies) and former ARCA members, the SCCA was born. However, Otto's A Type Duesenberg (touring) did not qualify him as a full member.
Early in 1945 Otto bought an Amilcar CGSS "Grand Sport Surbaissé" that had a bent frame, with the intention of installing a Ford V8-60 to run in the SCCA. Although he never got very far with the project it did qualify him for full SCCA membership. Otto used his A type Duesenberg and Duddley Wilson's Stutz in a number of SCCA events.
Later in 1945 Otto Linton met Bill Albertini in Media, PA. Bill had a racing Duesenberg for sale and said he had run it at Indianapolis in the early 1930's. He also said he had done a lot of work on it himself, especially the "top end" modifications for speed.
Otto drove this car in the streets of Philadelphia as he began adapting the car to SCCA standards….Otto Linton and George Caswell enclosed the front springs in a cowl to help the radiator with cooling at lower speeds, added headlights and rear fenders and changed the exhaust so that a full engine fairing could be used. He did run the car in a few events, but before it was even painted he found a better car. In the summer of 1945 Otto traded the Indianapolis Duesenberg to an Air force veteran who had brought a prewar MG J4 back home (Otto ran the MGJ4 in many events including the first Watkins Glen race in 1948). George Caswell picked up a pre war French BNC and installed a Ford V8-60 which he also ran at Watkins Glen in 1948. The poor Amilcar was turned into a trailer, and used to haul the race cars to the track.
What was Bill Abertini's Indianapolis Duesenberg? Bill bought the car and modified it for the new two man Formula in 1930. He claimed it was originally a single seat factory car that had Indianapolis history with a Philadelphia based driver. What Bill started with and how much he retained from the original car is not clear. What can be seen from the photographs is that the car has components from road based Duesenbergs and is missing some distinctive components that would be typical of an early Augie Duesenberg race car.
Eddie Rickenbacker (he changed the spelling of his name several time, but he was the same WWI flying Ace) controlled the AAA contest board and instituted changes to the Indianapolis rules starting in 1930. This is often called the "junk formula", because it targeted the high powered custom machines with rules that favored the more stock machines (Rickenbacker had driven a Duesenberg at Indy in the 1920's). The rules included a riding mechanic, brakes on all four wheels, no addition of Oil during the race, an emergency brake, no superchargers and 2 valves per cylinder.
Bill entered the car (#29) for 1930 (under the anglicized William Alberti) with a rookie driver from the Philly area, Joe Caccia. Joe crashed the car during the race finishing 25th. Joe Caccia was killed in a practice crash at Indianapolis in the Jones & Maley Duesenberg in 1931.
Bill entered the car (#72) for 1931 as the Alberti Special with another rookie driver from the Philly area, Al Aspen who finished 14th.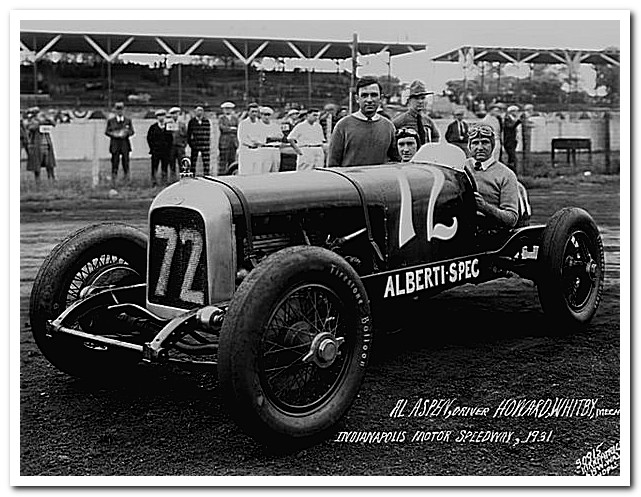 It is not clear what the car did after that, although Philadelphia was the center of the Hankinson AAA circuit. The car was pretty much untouched from its Indy days when Otto bought it in 1945.