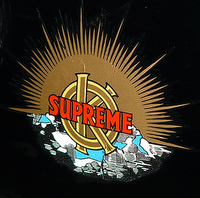 OK was a British motorcycle manufacturer founded in 1882 by Ernie Humphries and Charles Dawes. They used a number of engine suppliers over the years and even built their own.
In the '20s Charles Dawes left the company and Humphries renamed the company OK-Supreme. He increasingly turned to JAP to supply engines for his bikes and the JAP powered racing bikes did very well.
Interestingly, Humphries bought the failing HRD motorcycle company in 1928. He moved Ok-Supreme production into the HRD factory and kept all of the machine tools, but he sold the inventory and the name to Philip Vincent.
George Caswell was involved in business with Otto Linton and they also went racing. George ran a prewar French BNC with a Ford flat head V8 transplant at the first Race in Watkins Glen in 1948.
Before the war George raced motorcycles on flat dirt tracks up and down the east coast e.g. Langhorne, PA.
Below is a 1937 picture of George C. Caswell on his JAP powered OK-Supreme at Athol Fairgrounds in Massachusetts.