Rudolf Hruska was born in Vienna and attended the Vienna University of Technology at the same time as Otto Linton. He ended up in Italy owning a Porche dealership with Carlos Abarth (who was also from Vienna) and working for Cisitalia.
Hruska designed the one piece tubular backbone frame for the Siata 208cs that Otto raced. He moved on to Alfa Romeo and worked on the design of the Giulietta which Otto also raced. He was at Simca and was involved in the design of the Abarth that Otto raced in 1964.
Hruska ended up head of Alfa Romeo AlfaSud where he design a rear engine type 33, that used a boxer type Alfa motor.
Although he was tied into Abarth (Carlos was a motorcycle and Side car champion) he never designed motorcycles.
Someone solved that problem.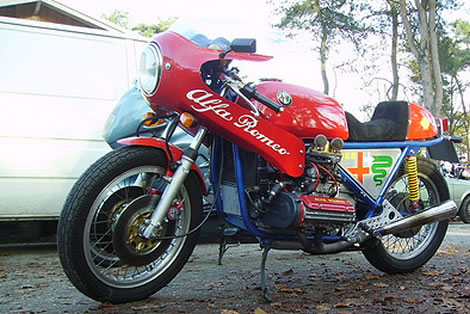 If a flat 4 1300 is not enough you can always go for the nice 2500 V6!