DuPont Model G "LeMans" – The Speed Craft Special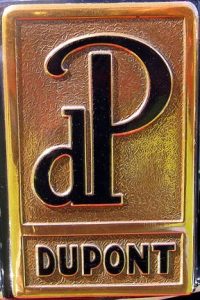 The DuPont Car Company was founded during the first world war by E. Paul DuPont. The first car debuted at the New York International Auto show in 1919. Between 1919 and 1931 DuPont built 516 cars, all with custom coachwork by companies such as Merrimac, Murphy, Derham, Waterhouse and Wolfington. In all, eight different models were produced called A through H.
With every new model the wheel base grew longer and the engine got bigger. The Model G was a long wheel base car, with a Continental L-head straight Eight…..it was available in 12 body styles from Merrimac, Derham and Waterhouse.
The two and four seat

Model G speedster

from Merrimac debuted in 1929 at the New York International Auto Show. The first

Model G speedster

was bought by Mary Pickford for her husband Douglas Fairbanks. Although

Merrimac

was founded by the son of J.B. Judkins (known for his Lincoln and Packard coachwork) Stanley Judkins died of the Flu in 1920 and the company remained independent of Judkins. Merrimac built many custom bodies for several manufacturers including over 400 Springfield Rolls-Royces and several hundred for Syracuse, New York's Franklin Automobile Company.

The Model G Speedster from Merrimac had swooping fenders, a bullet shaped Grill and unusually shaped Woodlight headlights.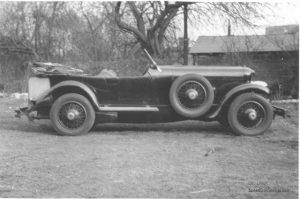 A.J. Miranda was the NYC distributor for DuPont Cars…..he wanted to compete with Stutz (DuPont's main competitor) on the track with the Merrimac speedster. He convinced the factory to have a two seat short wheel base car built by Merrimac in a boattail configuration. They tried to enter it at LeMans….but the regulations at the time mandated four seats. Merrimac then built 2 four seat speedsters (short wheel base) only one of which made it to LeMans.  A.J. Miranda drove the car at LeMans in 1929 but suffered a gearbox failure (that car is now owned by Dr. Simeone).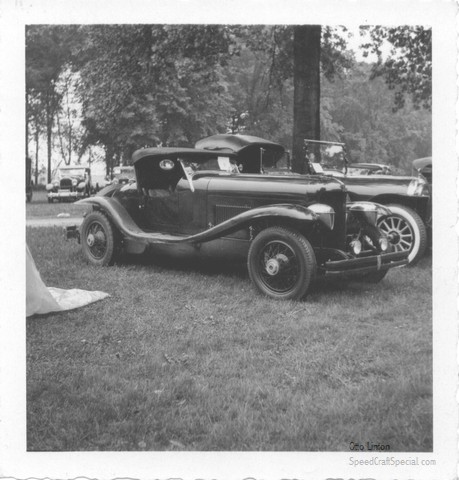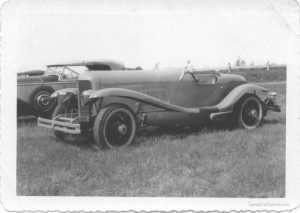 The DuPonts bought the Indian Motocycle Manufacturing Company in 1930 and merged the car business with the motorcycle business…..Paul DuPont was president of the combined company.  Paul stopped all non-motorcycle production (like outboard motors and cars) in 1931 after building and selling only 3 Model H cars (even longer wheel base than the G)….. Paul Dupont ran Indian until 1945.

After Paul DuPont shut down car production at Indian in 1931…..Merrimac continued to make  "LeMans copies" of the short wheel base LeMans car in both two and four seat configuration, these were sold by A.J. Miranda in NYC…..Merrimac went out of business in 1934. There is no record of what engines where used in these "LeMans copies", but as many as 16 versions where produced in those years.  Many of the "LeMans Copies" where intended for racing, the fenders and rear cowling (around the boat tail) were removable and often the car had only a driver side door.

They had full access to the left over DuPont parts…and since they had designed and built the car originally, they had all the patterns for manufacture. It is not clear if this was done with DuPont / Indian's blessing or not. They say Paul intended to restart car production at some point….but as the depression took hold he never did.
The Speed Craft Special
Otto Linton remembers, "David Felix was a Philly Lawyer who was into sport cars (Alfas etc) he also bought an MG from me in Exton, he always had leads on cars. Denver (Cornett) bought it  directly from Felix and brought it to me, the engine was there, but disassembled and needed some bearing work." The car had mostly Ford running gear, " The engine was based on a 1932 Ford B motor, but the OHC head was beautifully made with big valves about double the size of model B engine."
Denver Cornett decided to go for a V8 and asked Otto to "build him a good engine". Otto picked the 180 degree version because of the better torque available for Watkins Glen. "I sold the (original) engine to a relative of Frank Griswold who had a nice collection of cars and got almost half or better the cost of the engine I had built for Denny. He was happy with that."
I was told by Denny, Felix and Lex (DuPont) that the car was a "special" from the Indian Motorcycle factory days, when I asked them at the time."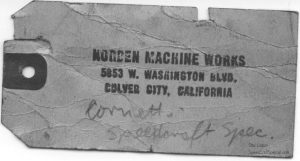 Otto used a Ford flat head V8 engine with 180 degree crankshaft and a special Cam shaft. He ordered the parts from Norden Machine Works in Culver City, California. Norden was known for racing parts in the 1940's, supplying Carburetors, crankshafts, cam shafts and steering gear. Flat head V8's with Norden parts ran at the Salt Flats and Indianapolis….many Midget racers used their single armed steering gears. Their catalog states racing parts "Proven at Indianapolis".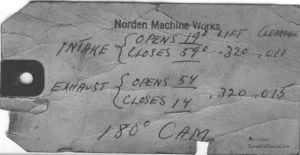 Denver Cornett raced the "Speed Craft Special" at Watkins Glen in 1950 and 1951 on the original road course. He competed against a mixed group of cars…there where Duesenbergs, Rileys, Frazer Nash, Bugatti and more modern cars such as Allard, Maserati, Healey and Jaguar xk120s. In 1950 he crashed and did not finish the race. In 1951 he placed 18th.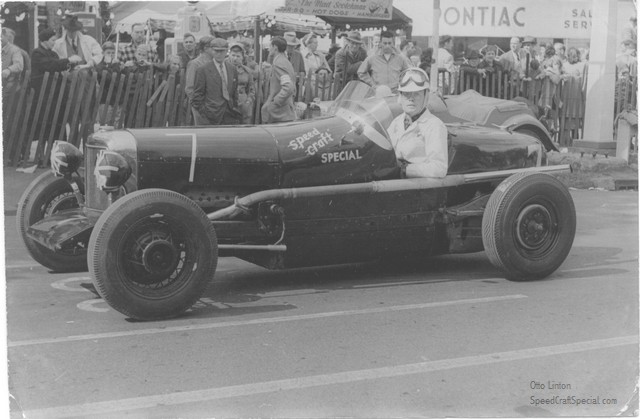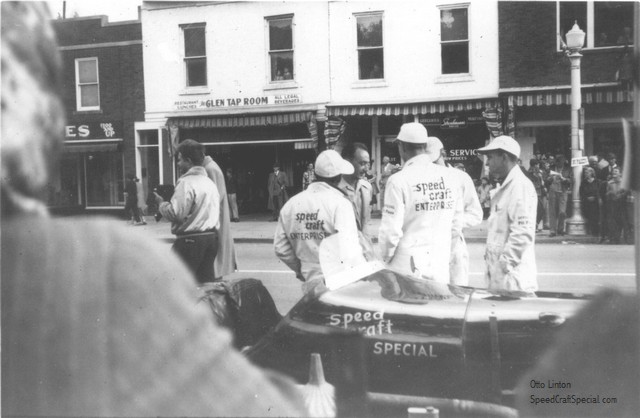 So what was the Speedcraft Special? This is what I have found after years of research.

A). David Felix advertised the car in the SCCA Spokesman as a DuPont Indianapolis car, Denver bought the car as such and entered it in races as a DuPont Indy car.

B). The only real connection to the DuPont Car company is that the car had been sitting in the old Indian Motorcycle factory since before WWII. However, George Weaver and Briggs Cunningham both stored cars there before the war and both had played around with Indianapolis "bigcars" and "Sprinters". 

C). The car does not particularly resemble a Model G DuPont and it is unlikely that a short wheel base "LeMans copy" made by Merrimac for A.J. Miranda ended up in the DuPont/Indian factory.

D). The car does have many features of the early "Junk" formula (two man) Indy cars from the mid 1930s. The OHC conversion of a Ford "B" block, the steering gear placement, belly pan and the cowling. 

E). There was a set of 3 Indy cars from the mid '30s that strongly resemble the car. After a few years one was sent to Firestone for use as a Tire Test Mule and disappeared (most likely sent to a WWII scrap drive). A second car with an unusual engine was shortened after frame damage, re-bodied as a single seater and competed for many years with a different motor. The third car was also re-bodied, but the body was reused to build a hill climb/ road racer.

F). Denver Cornett sold the car to a local Louisville Kentucky bar owner, who never fully paid for the car and never made use of the car. In the last 20 years the Second car, with the unusual engine, was restored by repairing the frame and using a body found in a barn formerly owned by a "saloon keeper" outside of Cincinnati. That  car had long been thought to be a prototype of the mid '30s Ford V8 indy cars. Pictures of the "Barn find" Indy car would tell the story, but none have been forth coming.